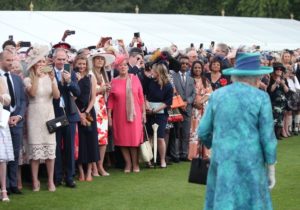 Library picture
The Queen has cancelled all her garden parties for 2021.
The decision comes after England moved back into a national lockdown as the Covid-19 spreads unabated.
There has been a daily succession of record new cases and deaths.
The Queen and Prince Philip have both been shielding during the pandemic.
All the parties scheduled for Buckingham Palace and the Palace of Holyroodhouse in Edinburgh.
It's said Royal staff face too many difficulties and logistics to ensure the gatherings go ahead under lockdown rules.
A palace spokesman said:
"The decision has been taken that garden parties will not take place in 2021."
The Queen would usually invite more than 30,000 guests to her parties – three held at Buckingham Palace and one at the Palace of Holyroodhouse.
The people come from all walks of life.
At each party more than 27,000 cups of tea are served with 20,000 sandwiches and slices of cake.