Football legend Tommy "The Doc" Docherty dies aged 92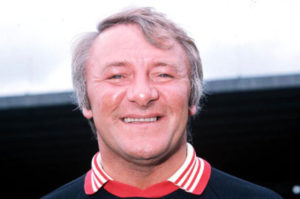 Tommy Docherty – one of football's greatest characters – has died.
He was aged 92.
"The Doc" died at his home after a long illness.
In a statement to the Press Association his family said:
"He was a much-loved husband, father and papa and will be terribly missed.
"We ask that our privacy be respected at this time."
Docherty was one of the game's most outspoken and colourful players and manager.
He was also a master of the one-liner.
During his 27 years as a manager with 12 clubs – and the Scottish national team – he almost achieved greatness.
He was best known for his five years in charge at Manchester United between 1972-77.
It ended when he was caught having an affair with the club physio's wife Mary Brown – whom he later went on to marry.
Docherty failed to stop the club slipping into the Second Division – now the EFL Championship.
But he brought them roaring back the following season.
His team beat Bob Paisley's Liverpool in the 1977 FA Cup Final.