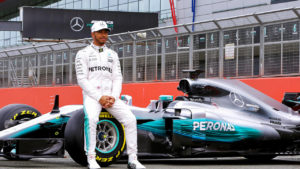 Lewis Hamilton has been awarded a knighthood in the Queen's New Year Honours list.
The honour tops off an amazing Formula One season for a driver many hail to be "the best ever".
Sir Lewis, 36 next week, is the fourth racing driver to be knighted.
He follows: Sir Jack Brabham, Sir Stirling Moss and Sir Jackie Stewart.
However, he is the first driver to be given the award while still behind a wheel.
He has also been outspoken about racial injustice.
Former F1 driver Martin Brundle said:
"Congratulations to him, and very well deserved.
"Seven world titles he has in his pocket now equalling the great Michael Schumacher.
"He tops the tables in Formula 1 for most victories at 95, most pole positions at 98, most podiums at 165.
"He's 36 years old on January 7.
"Most of the young guns aiming to knock him off the pedestal are 10-15 years younger than him and he still turns up with his A game; full of energy, pushing like crazy.
"If anybody in sporting terms deserves this recognition then surely it's Sir Lewis Hamilton."
Hamilton was honoured for his services to motorsport on the Overseas and International List.
It recognises "exceptional service to the UK abroad and internationally".