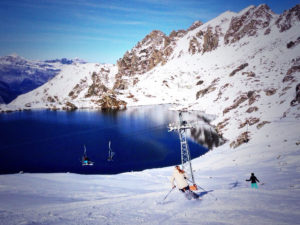 Library picture
Hundreds of British skiers in quarantine in a ski resort have escaped and returned home.
The winter holidaymakers were confined to their rooms in Verbier, Switzerland.
They were isolated after Britain announced scientists had detected a "mutant strain" of the Covid-19 virus.
Despite the lockdown more than 400 skiers slipped out of the upmarket mountain retreat.
They first hotel and chalet owners knew about the exodus was when untouched breakfast trays were found outside rooms.
Only a dozen British skiers stayed out.
Christophe Darbellay, the president of the Valais government, said:
"Some guests left by car.
"There is a sense of personal responsibility.
"You can travel all over Europe without having to identify yourself.
"The border is a sieve."
"Also, passenger data was missing.
"Our work was made unnecessarily difficult."
Simon Wiget, the director of the Verbier Tourist Office, said:
"It was a drip, drip of information that we had, and we informed tourists about the rules as best we could.
"We called all the hotels and tour operators and said that people who had travelled from the UK had to announce themselves to the Swiss authorities.
"We identified about 350 people but maybe there were 500 people if all the second home-owners and private chalet guests were included.
"It was impossible to be sure.
"Maybe a few people might have thought they were escaping, but I think the vast majority would have believed they were acting within the law and responsibly.
"People are basically honest and they don't break the law on purpose."