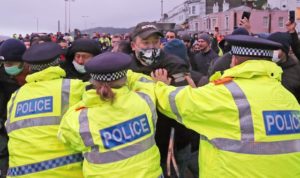 Angry lorry drivers endlessly stuck at Dover after a French blockade have clashed with the police.
France imposed the travel ban in a bid to contain a highly contagious new strain of Covid-19.
But the move has left thousands of drivers stuck and unable to return home for Christmas.
London and Paris later agreed a deal to let drivers through if they held a negative test certificate.
Britain has called in the military to start the tests – but warned it would take days to clear the backlog.
The resentment turned to anger at Dover as drivers and the police scuffled by the quayside.
Mekki Coskun from Dortmund in Germany, told Reuters:
"This is not how it should work.
We have no information; the people need to be fetching information.
"No information … they get worried."
The Road Haulage Association (RHA) estimates 10,000 trucks are being held  in Kent on motorways and an airport.
Rod McKenzie, for the RHA, said:
"The border is still closed, the testing regime isn't happening yet, you've got truckers very angry and we're starting to see a breakdown in law and order in a small way among very frustrated guys who want to get back by Christmas,"