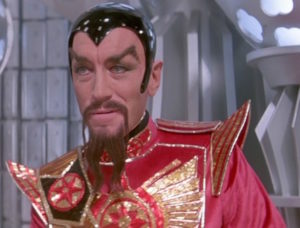 Arch villain Ming the Merciless – the nemesis of Flash Gordon – is a "discriminatory stereotype".
The claim comes from the British Board of Film Classification (BBFC).
The censor says the casting of a white actor as Ming could be "dubious if not outright offensive".
Although Ming – played by Swedish actor Max von Sydow – comes from the Planet Mongo the BBFC says he is "clearly of East Asian origin".
The BBFC is now looking at other old films containing racial stereotyping which need to be highlighted before broadcast.
Matt Tindall, BBFC senior policy officer, said:
"Flash's arch-nemesis, Ming the Merciless, is coded as an East Asian character due to his hair and make-up but he's played by the Swedish actor, Max von Sydow.
"I don't think that is something that would happen if this were a modern production and is something we're also aware that viewers may find dubious, if not outright offensive.
"The character of Ming himself comes from the Flash Gordon comic strips of the 1930s and let's just say that attitudes towards the acceptability of discriminatory racial stereotypes have moved on considerably since then, and rightly so, of course.
"While the presentation of Ming in Flash Gordon, the 1980s film, isn't what we would consider a category-defining issue, we're sensitive to the potential it has to cause offence.
"So, we've highlighted it [to ensure] audiences are aware it's there, and can make an informed decision about whether to watch the film themselves or to show it to their children.
"This is something we have bear in mind often when we see older films coming in for re-classification: films that might contain discriminatory depictions or stereotypes that are not acceptable to modern audiences, including films where discrimination wasn't the work's intent, just a reflection of the period in which it was made.
"This is an issue that we're currently planning to explore more through research next year, speaking to the public to check that they're happy with the ways that we're classifying such films and the way that we classify each use of discrimination more generally."
Flash Gordon was released in 1980 as A-rated – now a PG.
However, it was raised to 12A for its sexual references, violence and language.
Mr Tindall said:
"Things have moved on some way since 1980 and we had to look at Flash Gordon with fresh eyes, and in doing so we came to the conclusion that for modern audiences it is much more appropriately rated 12A than PG."