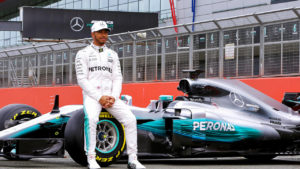 World champion Formula One driver Lewis Hamilton has been named BBC Sports Personality of the Year.
He is only the fifth person to win the award more than once.
This season Hamilton – strongly tipped for a knighthood – equalled Michael Schumacher's record of seven F1 titles.
He also beat the record for most Grand Prix wins.
Liverpool captain Jordan Henderson came second and jockey Hollie Doyle finished third.
Hamilton, 35, said:
"I am so, so, so grateful to the British public.
"I think it's been a long journey together.
"There's been a huge amount of support, particularly in the British countries and around the world with Brits going across all these different races.
And so, for them to call in tonight, and award me this great honour, I'm really just so grateful.
"This definitely goes a long way to giving me the best Christmas that I can have given the circumstances."
Boxer Tyson Fury tried to spoil the party by taking legal action over his nomination for the perennial award.
However, he failed to garner public support in the voting.