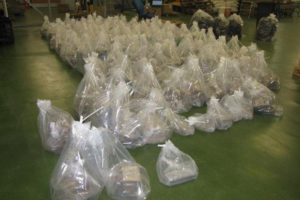 Picture: National Crime Agency
More than 1000 kgs of cocaine has been found concealed in a shipment of banana pulp.
The drugs were uncovered after a ship docked at London Gateway port.
She had been loaded in Colombia and was on her way to the Netherlands.
UK Border Force officers discovered the haul during a "routine inspection".
They found the ship had a number of "anomalies" in its manifesto.
It's the second major seizure of the Class A drug in the last few months.
In September 1,115 kgs of cocaine were found in a shipping container laden with paper.
The Covid-19 pandemic has seen a series of restrictions in aviation and shipping.
Criminals have been forced to risk sending larger quantities of drugs in single loads.
Jacque Beer, branch commander of The National Crime Agency , said:
"These were substantial seizures and will represent a significant hit to the organised crime groups involved, meaning less profit for them to reinvest."
"Although the UK was not the ultimate destination for the shipment, it is likely that at least a proportion would have ended up being sold on our streets".
Steve Whitton, the head of Border Force maritime command, said:
"These significant seizures have taken a large amount of dangerous drugs off the streets, which not only reduces the significant harm they cause to communities but also makes a huge dent in profits of smugglers and dealers."
Home Secretary Priti Patel said:
"The UK would use every inch of our law enforcement powers to stop drugs entering the country.
"Drugs fuel criminality and destroy lives
"Class A drugs such as cocaine inflict unimaginable damage on to our citizens and communities, shattering lives and stoking obscene levels of violence, disorder and crime."