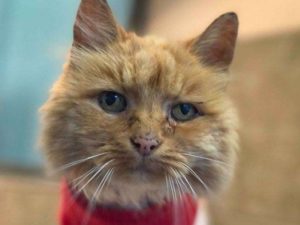 A drowning cat was saved after being thrown into a dyke from a moving car.
The long-haired female ginger cat was tossed out of a black Honda into Mill Dyke in Doncaster, South Yorkshire.
Luckily, a passer-by walking his dog saw the incident and waded into the dyke to pull her out.
Graeme Petty, an RSPCA inspector said:
"Had he not intervened I am sure she would have not survived.
"His heroic actions saved her life.
"For a person to callously throw a neglected cat into water to an almost certain death is absolutely awful.
"There is about 15ft of land before you reach the water – so it seems someone has made a real effort to try and drown her."
The RSPCA is now looking after the cat – called Honey by the staff.
The centre is trying to trace the owner.
Mr Petty said:
"She is a distinctive looking long-haired ginger cat, aged about two, so I believe someone will know who she belonged to.
"And I would also like to speak to the man who saved Honey as he may have some information that could help us."