Egg throwing campaign to hit Margaret Thatcher statue unveiling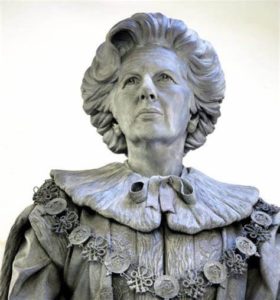 More than 2,800 people have said they will throw eggs at the unveiling of a statue to Margaret Thatcher.
The bronze of the former Prime Minister is to go up in her hometown of Grantham, Lincolnshire.
The statue cost £300,000.
It will be protected by a ten-foot-high plinth – making the monument more than 20 feet tall.
Despite the measures, there is a Facebook campaign to spoil the day.
Organiser Kass Arif, said in a post:
"Bois and girls and me non binarys, we out here holding contest for egg throwing, lassos throwing, and potentially graffiti art.
"Where are we doing this you might ask, well the in the wonderful city of Grantham, and we have a special target being made currently, a beautiful statue of the Iron Lady, now it's a family friendly event so please be respectful and pick up ya litter.
"Not sure on the unvaling (sic) of the statue but will change the date accordingly."
The statue, created by sculptor Douglas Jennings, was initially rejected by London because of fears of vandalism and disorder.
It will stand at St Peter's Hill in Grantham next to a statue to Sir Isaac Newton.
It's not known when the opening ceremony – which is costing £100,000 – will be held.
Mrs Thatcher was known as the Iron Lady for her uncompromising politics and style of leadership.
She was Britain's first female Prime Minister.
She was born and raised in Grantham.
Her father Alfred ran a grocer's shop.