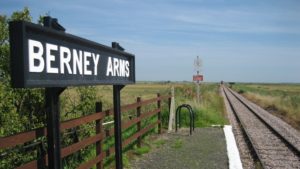 Berney Arms in rural Norfolk is Britain's least used railway station over the last year.
A mere 42 passengers caught the train between April 2019 and March 2020.
Berney Arms – named after a long closed nearby pub – is on a single-track line between Reedham and Great Yarmouth.
It is surrounded by marshland managed by the RSPB.
Two Greater Anglia trains serve the station from Monday to Saturday.
On Sunday that jumps to five, reported the Office and Rail (ORR) in its annual figures.
Passengers wishing to get on the train must hold out their hand to request a stop – just like a bus.
Travellers wanting to alight need to tell a member of the train crew "in good time".
Six stations had fewer than 100 passengers a year based on ticket sales.
Second was Elton and Orston in Nottinghamshire with 68 and third was Stanlow and Thornton in Cheshire with 82 passengers.
Meanwhile, London Waterloo was the busiest station for the 16th consecutive year.
Despite its numbers dropping by eight million the station still handled 86.9 million travellers.
Jay Symonds, ORR senior statistical analyst, said:
"The dramatic drop in passenger numbers towards the end of March due to Covid-19 explains much of the drop in usage compared to last year.
"Despite this, Waterloo remains top, but we saw a change in the least used station with Berney Arms taking the spot from Denton and Stanlow & Thornton.
"With numbers staying at historically low levels during 2020, there is no doubt that next year's figures will look a lot different."
Passenger numbers increased at Denton and Stanlow & Thornton because people wanted to visit Britain's least used stations.