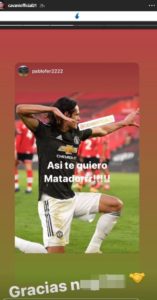 Manchester United striker Edinson Cavani could face a three-match ban after using a racial term on social media.
The Uruguayan player scored twice to help United beat Southampton 3-2 – after trailing by two goals.
A delighted Cavani took to Instagram to celebrate his match-winning performance.
However, the Spanish speaking forward used the word "negrito" in one exchange.
A fan posted 'Asi te queiro Matador' in Spanish, which translates "I love you, Matador!"
Cavani replied: "Gracias N******!"
The word is said to be Spanish for "little black".
United quickly pointed out Cavani had used the word as a term of "affection".
The club added the word means different things in South America.
Once this had been pointed to Cavani, 33, he deleted the post.
At the start of the season the Football Association (FA) issued guidelines on racist and defamatory language on and off the pitch.
Offenders face a three-match ban.
The FA is now looking at the incident.