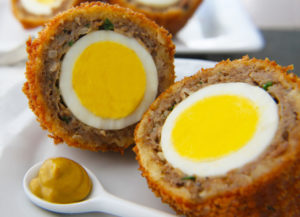 A Scotch Egg would "probably count" as a substantial meal in a pub, said a Cabinet Minister.
George Eustice gave the "ruling" as more than half the country head into a tier two lockdown.
Under the Government's rules people can drink in pubs if they are eating a "substantial meal".
When asked if a Scotch Egg would suffice Mr Eustice said:
"I think a scotch egg probably would count as a substantial meal if there was table service.
"Often that might be as a starter."
Downing Street has already said pub diners had to leave once they'd finished their meal – no more ordering drinks.
A Scotch Egg is a soft or hard-boiled egg wrapped in sausage meat, coated in breadcrumbs, and deep-fried.