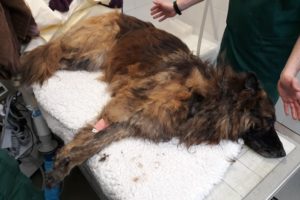 Bella after being rescued
A woman has admitted tying a rock around a dog's neck and trying to drown the animal.
Bella – a German Shepherd – was rescued when a passer-by spotted her in the water and dragged her out.
Charlene Latham, 31, of Newark, Nottinghamshire, has pleaded guilty to causing unnecessary suffering to an animal.
She was released on bail to attend a hearing next March.
Chief Superintendent Rob Griffin, of Nottinghamshire Police said:
"This was a highly emotive incident that was understandably very shocking to the public.
"Thankfully, Bella is reported to be doing well and is in very good hands.
"Animal cruelty is totally unacceptable, and we will always support our colleagues in the RSPCA in whatever way we can in their investigations."
A man is also due to appear in court on March 8 in connection with the incident.
Bella was thrown into a swollen River Trent last January.
The dog had a plastic bag around her neck in which a rock had been placed.
A woman saw the animal struggling to keep afloat and waded in to rescue her.
The dog's micro-chip revealed her name was Bella.