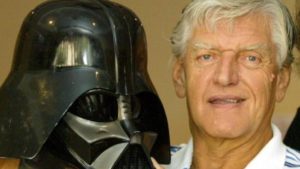 David Prowse who played Darth Vader in the original Star Wars trilogy has died. He was aged 85.
Prowse was a bodybuilder who competed alongside Arnold Schwarzenegger in Mr Universe competitions.
He also appeared on stage as Jack the Ripper – tearing up phone books.
Star Wars creator George Lucas had seen six foot six inches Prowse playing a bodyguard in the film "A Clockwork Orange".
He invited him to audition for two roles in Star Wars – Darth Vader and Chewbacca.
The actor chose Darth.
When asked why he replied: "Everyone remembers the villain."
The death was announced by his agent Thomas Bowington.
He said: "It's with great regret and heart-wrenching sadness for us and millions of fans around the world, to announce that our client Dave Prowse MBE has passed away.
"His death is heart-wrenching and sadness for us and millions of fans around the world.
"May the force be with him, always!
"Though famous for playing many monsters – for myself, and all who knew Dave and worked with him, he was a hero in our lives."
And Jason Joiner, an events producer who worked with Prowse posted on Facebook:
"Dave was dedicated to meeting the fans for decades and lots of fans' first ever guest they met was Dave in the early days of Comic Cons and collators' events.
"Dave was larger than life and he will be so very much missed.
"Our love and thoughts go out to his family."
Prowse said the best role he ever played was as the Green Cross man for a series of Government information films.
He showed children how to cross the road safely.