Copper in Krispy Kreme carrot con dismissed for dishonesty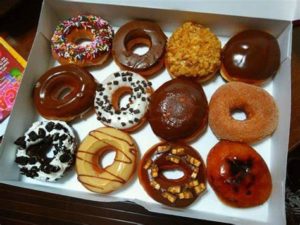 An on-duty policeman who tried to buy a £9.95 box of Krispy Kreme doughnuts with a seven pence bar code for carrots has been sacked.
PC Simon Read was dismissed without notice for gross misconduct.
He can appeal the decision.
A disciplinary panel found Read's explanation of what happened "lacking in credibility".
Panel chair Sharmistha Michaels told the hearing:
"On the balance of probabilities, we are satisfied that PC Read did intentionally scan the wrong barcode.
"The officer's behaviour has undermined public confidence in the police and were incompatible with his role as a police officer".
Mark Ley-Morgan, presenting the case, said that PC Read was "using his uniform as cover".
It was said PC Read picked up the cardboard tray of 12 Krispy Kreme donuts at a Tesco store in Wisbech, Cambridgeshire.
They were priced at £9.95 and had a barcode.
The officer then went to the fruit and veg counter and picked up some carrots.
He used the self-service scales to weigh the vegetables and print off a barcode for seven pence.
He then used the carrot barcode to cover the Krispy Kreme barcode before checking out.
Carolina Bracken, for PC Read, said the officer had an "unblemished career."