More than 70% of drivers broke speed limit during first lockdown, reports DfT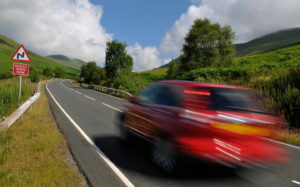 More than 70% of drivers broke the 30-mph speed limit during the first lockdown, figures reveal.
And the number did not drop below 60% between March 21st to May 25th.
During this period there was 77% less traffic on Britain's roads, reports the Department for Transport.
Steve Gooding, director of the RAC Foundation, said:
"It is perhaps unsurprising that, as the general level of traffic fell away in the first lockdown, some of those people still driving were tempted by the empty road ahead to flout the speed limit.
"Perhaps the most worrying aspect of these numbers is the increase in speeding in 30mph areas, sometimes by 10mph or more, at the same time as measures were being rolled out to accommodate safer walking and cycling.
"Coping through the Covid crisis and repeated lockdowns has been stressful for all of us, but that's no excuse for reckless driving.
"As road users we all need to be showing more consideration for each other, not less."