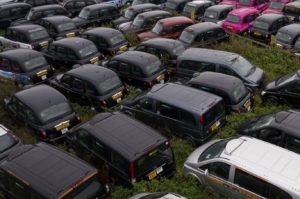 Hundreds of London black cabs are mothballed after business virtually ground to a halt during the pandemic.
Rows upon rows of cabs are laid-up in fields around London.
The Licensed Taxi Drivers' Association (LTDA) reckons only one in five cabbies are still driving.
And figures from Transport for London show 4,000 fewer taxis are running around the capital.
Cabbies at London's Heathrow Airport said they could wait up to nine hours before picking up a fare.
Andy Biggs, 63, said he was lucky if he gets three customers a day.
He added: "When we first went back after the initial lockdown, things started to get a little bit better very slowly.
"But now it's as dead as it's ever been."
LTDA General Secretary Steve McNamara said the problem was a "complete and utter nightmare" for cabbies.
He said many cabbies have "fallen through the gaps" in the Treasury's furlough scheme.
And some were now on "starvation wages".
Cab rental firms have hired fields and farmland around the city perimeter to store vehicles handed back by drivers.
Rental company GB Taxi Services has seen the usage of its 100 black cabs drop to a mere 10%.
To avoid having to pay insurance, GB has been using farmland in Epping Forest, Essex to store its unused fleet.
However, the plan backfired when thieves stole catalytic convertors from 50 vehicles.
Simon Georgiou, a director at GB Taxi Services, said:
"We got our knees taken away with Covid and loads of vehicles getting handed back.
"Then this theft happens, which cost in excess of £120,000.
"We're in a right mess."