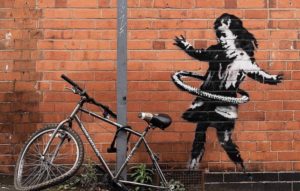 A bicycle that accompanied a Banksy mural has not been stolen.
The bike was removed by the owner of the building where the artist painted his hula-hoop girl.
The city council has confirmed the bike is in "safekeeping".
However, local resident Kyle Matt was so disappointed by the disappearance he bought another bike for £20 and put it in its place.
He told the BBC: "Banksy put us on the radar by putting it on that wall. It makes the area look a lot better.
"I just did it to see people happier.
"Even if it's not been stolen, I'm still glad I replaced it as it looks like part of the Banksy.
"And at least now if someone does nick it, the original is safe."
The Banksy bike appeared at the same time as the black and white mural was painted.
The tyre is missing and the girl in the picture is using it as a hula-hoop.
Nottingham Council was quick to cover the painting with a clear sheet of plastic – but nothing was done to protect the bike.
Banksy claimed the artwork by sharing it on his Instagram page on October 17.