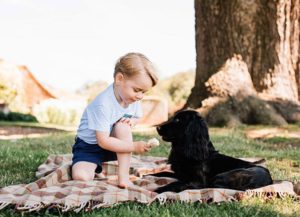 Picture: Kensington Palace. Prince George and Lupo
Prince William and his wife Kate have revealed the family dog Lupo has died.
The black cocker spaniel was a wedding present from Kate's brother James Middleton.
The couple broke the news on their joint Instagram account @kensingtonroyal.
Under a picture of nine-year-old Lupo they wrote:
"Very sadly last weekend our dear dog, Lupo, passed away.
"He has been at the heart of our family for the past nine years and we will miss him so much."
More than 800,000 followers have "liked" the post with many offering condolences
Kate's brother James wrote:
"It is with great sadness that Lupo, the beloved dog of my sister Catherine and her family has passed away.
"Nothing can ever prepare you for the loss of a dog.
"For those who have never had a dog, it might be hard to understand the loss.
"However for those who have loved a dog know the truth: a dog is not just a pet; it is a member of the family, a best friend, a loyal companion, a teacher and a therapist."