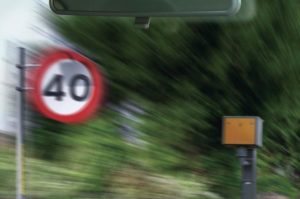 A third of young drivers admit to going faster than 100 mph, a survey reveals.
And most of them are men aged between 25 and 34.
One driver was doing 180 mph on a motorway in Nottinghamshire.
And another was clocked doing 152 mph in a 30-mph zone in London.
Department of Transport figures show 44 people died in road crashes in 2019 where speed was a factor.
More than 140 people were injured – some seriously.
During the lockdown restrictions more and more motorists have been speeding on the empty roads.
Road safety charity Brake conducted the survey.
Its campaign director Joshua Harris said:
"There is no excuse for breaking the speed limit and these figures highlight the grossly excessive speeds of some drivers who show complete disregard for the law and people's safety.
"None of us should be put in danger by the high-risk behaviour of others when we're getting about on roads, and that's why, this Road Safety Week, we are asking everyone to join us in our call that there is no need to speed."
"Many drivers drift over limits by mistake, but our research shows that a shockingly large number of drivers, particularly men, break speed limits excessively."
Roads Minister Baroness Vere said:
"Speeding is illegal, reckless and puts people's lives at unnecessary risk.
"For this reason, there are tough penalties and strict enforcement measures in place for those who disobey the law."
Earlier this year an Audi driver filmed himself hitting 200 mph down an empty "lockdown" motorway.
At one point he is driving his RS6 car one-handed while filming on his mobile phone.
The one-minute footage was posted on social media.
The stretch of road is thought to be the M23 near Pease Pottage in Sussex.
The Audi's engine is heard screaming towards the 200 mph
The speedometer shoots from 61mph to 116mph in just five seconds before climbing towards the 201mph mark.
It is thought the £92,000 440 brake-horsepower Audi had been "tweaked" to reach top speed.