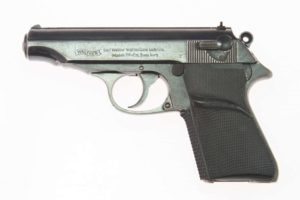 James Bond's Walther PP
A pistol used by Sir Sean Connery in the first James Bond film is up for sale.
The semi-automatic Walther PP is estimated to go for £150,000.
Sir Sean – who died recently aged 90 – used the deactivated gun in the 1962 film Dr No.
The Walther PP was one of two handled by Sir Sean.
Its provenance comes from the film's armourer Babty.
Martin Nolan, executive director of Julien's Auctions, said:
"The silhouette of 007 holding this gun would go on to become the James Bond franchise's most iconic image and one of the most recognisable pop culture references of all time.
"We are honoured to include his Walther PP pistol as our auction's headlining item along with hundreds of other historical memorabilia from Hollywood's greatest classic films and television series."
Also being auctioned is motorcycle helmet worn by Tom Cruise in Top Gun and a black leather motorcycle jacket worn by Arnold Schwarzenegger as the Terminator.
The auction is in Hollywood on December 3rd 2020