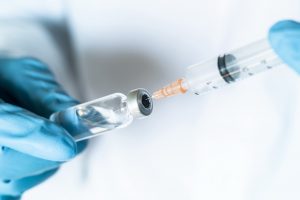 A vaccine against Covid-19 could be available before the end of the month (November), it is claimed.
It is reported the jabs would be given firstly to care home residents, people over the age of 80, and frontline health workers.
The Government is planning legislation to override the EU approval process if a vaccine proves safe before the Brexit deadline of December 31st.
Jon Findlay, Chief Operating Officer for Guy's and St Thomas' Foundation Trust, is reported to have outlined the vaccine plans at a meeting.
The jab would be given in two does, three to four weeks apart, but not within seven days of a flu inoculation.
The Mail Online reports that Guy's and St Thomas' – along with King's College Hospital in South London – would be "vaccine hubs".
It's also hoped a network of "Nightingale Vaccination Centres" will be opened around the country.
It is believed a list of more than 500 locations will be agreed upon by the middle of the month.
They will be up and running by December.
A source told the Mail:
"Existing buildings that can be repurposed, like leisure centres and warehouses will be used, starting in areas of high infection."
The Government is reported to be ready to buy 350 million doses of the six contrasting vaccines which are currently being developed.