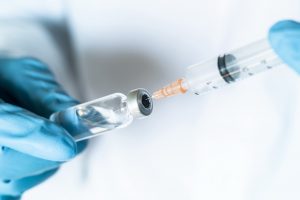 Library picture
The success of coronavirus vaccine trials by Pfizer and BioNTech could lead to at least one other vaccine being rolled out in Britain.
Sir John Bell, regius professor of medicine at the University of Oxford – and a member of the Government's vaccine taskforce – said that other vaccines could be soon available.
He told the BBC Radio 4 World at One programme:
"I am really delighted with this result – it shows that you can make a vaccine against this little critter.
"Ninety percent is an amazing level of efficacy.
"It rolls the pitch for other vaccines because I can't see any reason now why we shouldn't have a handful of good vaccines."
Asked if a normal life might return by next Spring, Sir John replied:
"Yes, yes, yes, yes. I am probably the first guy to say that, but I will say that with some confidence."
Chief Medical Officer Chris Whitty said the breakthrough meant there was a "reason for optimism for 2021".
The Pfizer and BioNTech vaccine data suggest it could supply 90 per cent protection to those who have not tested positive for Covid-19.
It's the most positive news the world has awaited since the pandemic broke at the start of the year.
The findings are based on an interim analysis conducted after 94 participants contracted Covid-19.
If the data continues to support this finding, then it's possible a vaccine could be in play before the end of the year.
William Gruber, Pfizer senior vice president for vaccine clinical research and development, said:
"This is about the best the news could possibly be for the world and for the United States and for public health."
The news of a vaccine sent world stock markets skywards.