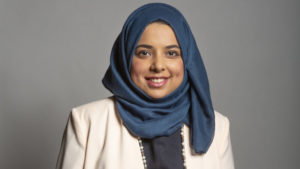 A London Labour MP has been charged with fraud
Apsana Begum, 30, is accused of "dishonestly failing to disclose information in order to make gains for herself or another or expose another to a loss".
The Poplar and Limehouse MP said she "vigorously contests these malicious and false allegations".
The three offences are said to have taken place between January 18th 2013 and March 31st 2016.
It is alleged she did not tell Tower Hamlets Council that she was "no longer living in overcrowded conditions", a court official said.
A Tower Hamlets Council spokesperson said:
"The council takes housing fraud very seriously.
"It would be inappropriate for us to comment on any specific allegations, but the public can be confident that any concerns are investigated by an experienced team, in line with our procedures."
Begum, of the Isle of Dogs in East London, is due before Thames Magistrates' Court on December 10th.