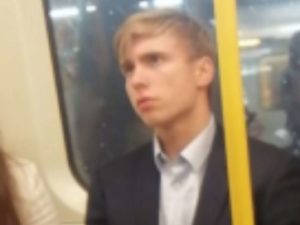 Picture: British Transport Police. Man wanted for questioning.
An NHS worker was punched and throw off a tube train after confronting three people for not wearing masks.
The man was hit repeatedly during the attack.
He had his eye socket fractured and jawbone chipped.
He was then thrown out of the doors and onto the platform at High Street Kensington station, London.
The attacker and two companions – a man and a woman – continued their journey.
British Transport Police have released a picture of a man they would like to talk to in connection with the incident.
He is white with short hair.
He was wearing a suit and carried an umbrella.
The incident happened at 22.00 on October 3rd but has only come to light with the release of the picture.
More than 500 people have been fined for not wearing a mask on the London public transport.
And more than 113,000 have been stopped from boarding for not wearing protection – and a further 1,800 were asked to leave services.
Anyone who recognises the man in relation to the High Street Kensington attack should contact on 0800 40 50 40.