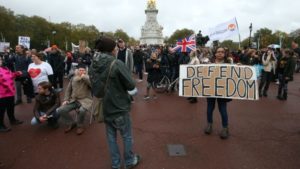 Police arrested demonstrators at an anti-lockdown protest in London.
Protesters marched towards Trafalgar Square calling for "freedom" and a stop to coronavirus lockdown restrictions.
They called the measures "tyranny".
Others were against a vaccine being introduced.
A handful of people were led away in handcuffs at Trafalgar Square.
And there were further arrests as scuffles broke out on Westminster Bridge as the police tried to disperse crowds.
Piers Corbyn – the brother of the former Labour Party leader Jeremy – attended the rally.
He is a vociferous supporter of the freedom from restrictions campaign.
Ade Adelekan, the Metropolitan Police Gold Commander, said:
"We were increasingly concerned that those in the crowd were not maintaining social distancing or adhering to the terms of their own risk assessment.
"Organisers did not take reasonable steps to keep protesters safe which then voided their risk assessment.
"At this point, officers then took action to disperse crowds in the interests of public safety.
"I am grateful that the vast majority of people listened to officers and quickly left the area.
"Frustratingly, a small minority became obstructive, deliberately ignoring officers' instructions and blocking Westminster Bridge.
"Although the majority of protests have concluded, our policing operation will continue into the night and I would urge Londoners to stick to the regulations, avoid gathering in large numbers and maintain social distancing."