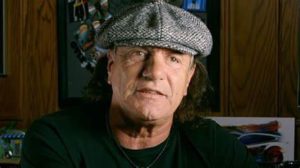 AC/DC singer Brian Johnson has told how his mum was a resistance fighter in WWII and smuggled British pilots out of Italy.
His mum Esther was born near Rome and worked in Nazi HQ as a shorthand typist, said Johnson.
She passed on information to the local resistance.
However, more dramatically, she also helped downed Allied fighter pilots make their way back to England.
Johnson, 73, was speaking on the podcast "We Have Ways Of Making You Talk".
He said: "The three boys in the family – me mum's brothers – were all 'Fascisti', blackshirts.
"They thought [Benito] Mussolini was the greatest thing.
"A lot of people did, and they were real Fascisti – they had the little pistols and fancy uniforms.
"Mum worked as a stenographer in the German headquarters and she would get any little bits of information and pass them on to the underground.
"Her farm under the chicken run was a hide where they would put all the downed pilots and hide them under there for a couple of days.
"And then from there they would march them to Switzerland to get out of the country."
After learning about his mum's wartime efforts Johnson told her:
"Jeez, you guys were busy, weren't you?"
She replied:
"It was fun.
"There were some very nice pilots, very nice – English men are very polite."
Brian's father Alan met Esther while he was fighting in Italy and they later married.