Guns, drugs, cash, Rolex watches and cars seized in "county lines" police raid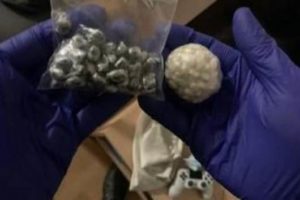 Picture: Metropolitan Police. Drugs seized
A police operation to hit county lines drug dealers has seized drugs, cash, firearms, and Rolex watches.
Fifty-three suspects have been arrested in Operation Trigona.
The police targeted people suspected of running 33 networks from South East London.
County lines is the movement of drugs from cities to the provinces.
Runners are often children or vulnerable people being exploited by gangs.
A total of 47 men and six women – aged between 16 and 48 – were arrested over the six weeks' Metropolitan Police operation.
It's alleged they were dealing in heroin and crack cocaine.
The raids came after a five months' long undercover investigation.
Police recovered two cars valued at £45,000 each, Rolex watches worth £40,000, and £63,000 in cash.
They seized 320 grams of crack cocaine, 150 grams of heroin and cannabis.
Four firearms, two rounds of ammunition, knives and knuckle dusters were also taken.
Detective Inspector Jo Gresham, who led Operation Trigona, said:
"Operations like this one, which disrupt county lines drug supply and dealing, and target the criminal exploitation of vulnerable people, are vital because we know that this type of criminality drives a high proportion of violent crime in London.
"During this operation we have identified two young people who were victims of this type of exploitation, who we are now safeguarding and working with to give them the support they need."