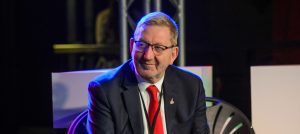 Trade union leader Len McCluskey has apologised after suggesting former Labour Party big-wig Peter Mandelson should "go count his gold".
The comment sparked a backlash as Lord Mandelson has a Jewish heritage.
In a bid to stop the row escalating, Mr McCluskey tweeted:
"Before this gets out of hand, let me say language is important and I apologise to Peter Mandelson and anyone else if mine has caused hurt."
Mr McCluskey, Unite General Secretary, made the remark on the BBC's Newsnight programme.
He said: "I stopped listening to what Peter Mandelson said many many years ago.
"I would suggest that Peter just goes into a room and counts his gold and not worry about what's happening in the Labour Party.
"Leave that to those of us that are interested in ordinary working people."
Mr McCluskey was commenting on Lord Mandelson's "praise" of Sir Kier Starmer as Labour's leader.
Mike Katz, from Jewish Labour, tweeted:
"Stay classy, Len.
"Pretty disgusted by his language on Lewis Goodall's film for Newsnight.
"But I'd guess he's best placed to know what's anti-Semitic.
"Just like he's got more experience of winning general elections than Mandelson."
A Unite statement was read out on the programme.
It said: "Mr Mandelson's religion was not relevant to the comments made by Mr McCluskey.
"Indeed, to the best of our knowledge Mr Mandelson is not Jewish."
(In fact, Lord Mandelson's grandfather was Jewish).
The statement added:
"The ordinary meaning of the statement made by Mr McCluskey is one of his belief that in recent years Mr Mandelson has had more interest in increasing his own wealth than in fighting for social justice for working class people.
"The suggestion of any anti-Semitic meaning to the commentary would be ludicrous."
During the leadership of Jeremy Corbyn the Labour Party was repeatedly dogged by accusations of being anti-Semitic.