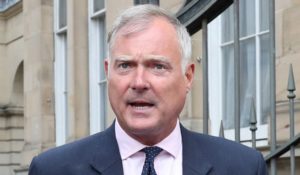 Former Blue Peter presenter John Leslie has been cleared of sexual assault at a showbiz Christmas party.
The 55-year-old had been accused of grabbing a woman's breasts after being introduced.
The jury of nine men and three women took 23 minutes to reach its verdict.
Leslie was tearful as the decision was announced at Southwark Crown Court.
He nodded in thanks towards the jury.
During the weeklong trial Leslie told the court he could not remember the incident.
He said:
"I would not have touched her like some mannequin and walked off."
Leslie, charged under his real name of John Leslie Stott, was told by Judge Deborah Taylor:
"Mr Stott, you for the second time leave this court without a stain on your character and I hope it will be the last time you have to attend."