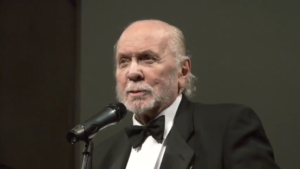 Herbert Kretzmer, best known for writing the English adaptation of Les Misérables has died.
He was aged 95.
Kretzmer also penned the song "She" for Charles Aznavour in 1974.
"She" was a signature song for the rom-com film Notting Hill.
But it is for his work on Les Mis that the South African born writer will be remembered for.
Les Misérables producer Sir Cameron Mackintosh said:
"His wonderful words for Les Misérables will live on in his memory forever more."
And, Lord Andrew Lloyd Webber said:
"The great lyricist and man of theatre and popular song, Herbert Kretzmer, has died.
"From Les Mis to 'She', TW3, 'Goodness Gracious Me' and so much more, he was a giant of his trade.
"RIP Herbie."
Kretzmer was the television critic for the Daily Mail.