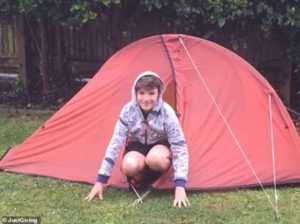 Picture: Just Giving
Schoolboy Max Woosey has raised £34,000 for a hospice after camping out for 200 nights in a tent in his garden.
The ten-year-old was inspired to the task after a neighbour gave him the tent.
He told Max to look for "adventure".
Sadly, the friend died soon afterwards in a hospice from cancer.
But Max decided to take up the challenge.
He started his adventure on March 28th when he heard fundraising events for the North Devon Hospice were being cancelled.
Max only pops into his home for schooling, dinner, and a shower.
He spends his time reading The Beano.
He said: "I sometimes get a bit freaked out when it's stormy weather, but I wouldn't say I get scared."
Max, from Braunton, Devon, now hopes to stay under canvas for the rest of the year.