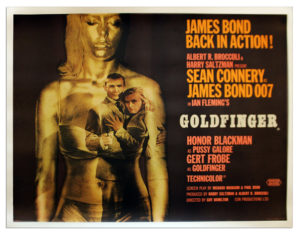 Margaret Nolan – the poster girl for the Bond film "Goldfinger" – has died aged 76.
Ms Nolan had a part in the 1964 movie but was made famous by the opening credits.
She dances in a gold bikini while painted head-to-toe in gold paint.
And she appeared on the publicity posters.
In the film she played the role of Dink.
Ms Nolan also appeared in the Beatles' film "Hard Day's Night" and a series of Carry On movies.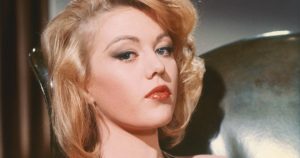 Film director Edgar Wright tweeted:
"It's my sad duty to report that actress and artist, the magnificent Margaret Nolan has passed away.
"She was the middle of Venn diagram of everything cool in the 60's; having appeared with the Beatles, been beyond iconic in Bond and been part of the Carry On cast too."
Margaret Nolan was born in 1943 in Somerset.
She grew up in London in the "swinging sixties" and worked as a model.
The Goldfinger poster led to a photoshoot with Playboy magazine.