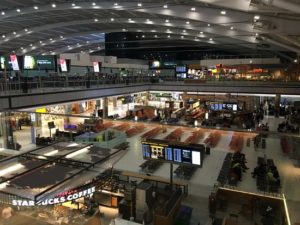 A woman was caught with almost £2 million in cash as she tried to board a plane leaving Britain.
Tara Hanlon, 30, was stopped at Terminal 2 Heathrow Airport with five suitcases packed with sterling notes.
She was boarding a flight to Dubai.
Hanlon, from Leeds, has been charged with money laundering and remanded in custody by magistrates.
A 28-year-old woman from Doncaster has also been arrested and released pending inquiries.
The UK Border Force said it was one of the largest hauls of cash recovered.
Chris Philp, minister for immigration compliance, said:
"This is the largest individual cash seizure at the border so far in 2020 and I am delighted with the efforts of Border Force officers.
"Preventing the export of undeclared cash from the UK is a vital step in clamping down on organised criminal gangs."
Rick Kent, from the National Economic Crime Centre said:
"Virtually all high-end money laundering schemes, and several cash-based ones, are facilitated by the abuse of legitimate processes and services."
It's estimated more than £100 billion is laundered through Britain.