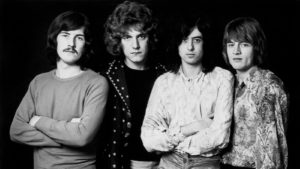 Rock superstars Led Zeppelin have finally won a long running court battle over the opening riff of "Stairway to Heaven".
The band was sued for copyright in 2014 after claims the guitar part had been stolen from another song.
The American band Taurus claimed it was their line from a number called "Taurus" released in 1968.
Led Zeppelin won the first case in 2016 but it was appealed.
The Court of Appeal later upheld the first judgement.
Now, the Supreme Court has said it will not hear the case – a decision that closes off all further legal moves.
Had the case gone against them, Led Zeppelin would have to re-pay more than £2.5 million in royalties.
The case was brought on behalf of the estate of Randy Wolfe, the frontman of Spirit who died in 1997.
Led Zeppelin played with Spirit at a Birmingham club in 1970 – two years after the release of "Taurus" and a year before "Stairway to Heaven" was released.
Wolfe's lawyers argued that was when Led Zeppelin first heard the opening riff.
However, Led Zeppelin singer Robert Page claimed he had no memory of the evening.
And, guitarist Jimmy Page said he had not heard the song until 2020 when people started making comparisons online.