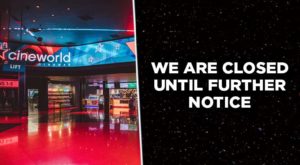 The delay of the new Bond film "No Time To Die" has prompted Cineworld to close its picture houses in Britain and America.
More than 45,000 jobs, including 6,000 in the UK, are affected by the decision.
Cineworld shares were halved on the news breaking.
Mooky Greidinger, Cineworld CEO, said:
"We're like a grocery shop with no food."
The company blamed the continued closure of cinemas which has prompted studios to hold back their new films.
Mr Greidinger said:
"In turn, without these new releases, Cineworld cannot provide customers in both the US and the UK – the company's primary markets – with the breadth of strong commercial films necessary for them to consider coming back to theatres against the backdrop of Covid-19."
Cineworld reported a £1.3bn loss for the first half of the year.
Its 663 cinemas were forced to close during the coronavirus pandemic lockdown.
Mr Greidinger said:
"Many significant movies have moved, like Mulan, like Black Widow, like Kingsman – Wonder Woman moved from October to December – and on Friday we got the news that the Bond movie, that, needless to say, for the UK is the biggest movie of the year, also decided to move.
"From a liquidity point of view, we were bleeding much bigger amounts when we are open than when we are closed … we would be like a grocery shop with no food – we had to take this decision."
It's the second postponement of "No Time To Die".
The final outing for Daniel Craig as 007 has been pushed back to April 2021.
It's almost a year late in coming to the big screen.