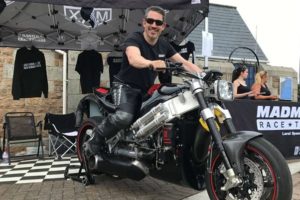 Dare-devil racer Zef Eisenberg has been killed attempting to set a new land speed record.
Mr Eisenberg, 47, died on the track at Elvington Airfield in North Yorkshire while driving a Porsche 911 Turbo S .
Mr Eisenberg was a millionaire who founded the fitness foor brand Maximuscle.
He ran the MadMax racing team which chased world speed records in cars and on motorbikes.
Mr Eisenberg escaped death at the same airfield in 2016.
He crashed at 230 mph breaking a dozen bones.
Despite fears he'd never walk again, the racer made a comeback.
His last Facebook message read: "Late night testing….for the next stage of MADness…."
Motorsport UK said:
"Zef was attempting to break the British Land Speed Record in a Porsche 911 Turbo S, at an event organised by Straightliners Ltd/UKTA.
"At 1630, the car went out of control at high speed at the end of a run.
"Local police and ambulance crews attended, however the driver tragically died at the scene.
"Motorsport UK, together with the event organiser and the local police, has begun a full investigation into the circumstances of the incident.
North Yorkshire Police said:
"Shortly after 4.30pm on 1 October 2020 police were called to a serious vehicle incident at Elvington Airfield near York.
"The incident occurred during a British Land Speed record attempt and the drivertragically died at the scene."
Mr Eisenberg had presented an ITV4 series called Speed Freaks.
Elvington Airfield was the track where Top Gear presenter Richard Hammond, 50, crashed in 2006.