Former Mail editor Paul Dacre tipped to be next Ofcom boss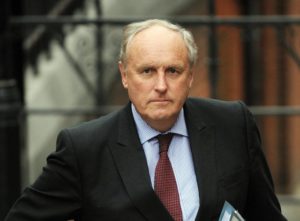 A former editor of the Daily Mail – and fierce critic of the BBC – is tipped to be the next Ofcom chairman.
Paul Dacre is said to be the preferred choice of Prime Minister Boris Johnson.
The 71-year-old journalist left the Mail in 2018.
It's reported he was "wooed" by the PM over Downing Street drinks earlier this year.
During his time at the Mail Mr Dacre was constantly critical of the BBC.
As Ofcom chairman he would oversee the broadcaster.
A Government spokeswoman said the job application process would begin shortly.
She added:
"It is an open recruitment process and all public appointments are subject to a robust and fair selection criteria."
Shadow culture secretary Jo Stevens said:
"Throughout this crisis, one of Boris Johnson's overriding priorities has been handing out cushy jobs, public contracts, and taxpayers' cash without proper scrutiny.
"People are worried about their jobs and health.
"The Prime Minister should be showing the leadership our country needs, not seeking undue influence over our independent institutions."