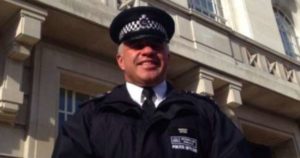 A police sergeant shot dead by a suspect at a police station has been named as Matiu Ratana.
The 54-year-old New Zealand born officer was hit in the chest from close range.
Mr Ratana, a father of one, was pronounced dead at hospital.
After the shooting the suspect, a 23-year-old man, is said to have turned the gun on himself.
He is in a critical condition with a neck wound.
The man had been arrested 30 minutes before on suspicion of possessing two rounds of ammunition and cannabis resin.
He was taken to the police custody centre in Croydon, south London.
Mr Ratana – known as Matt – had been with the Metropolitan Police for nearly 30 years.
He was due to retire in two years' time.
A key part of the Independent Office for Police Conduct (IOPC) investigation is how the gun was not found during a stop and search operation.
Ken Marsh of the Metropolitan Police Federation questioned whether officers had sufficient powers under stop and search laws to do the job properly.
He said: "The law under stop and search gives you the power to pat someone down.
"It doesn't give you a chance to do an intimate search.
"You can only do that in a custody suite."