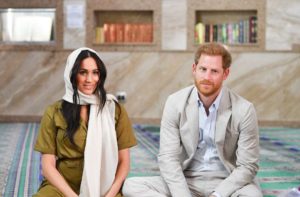 Pool picture
Prince Harry and his wife Meghan's tour of Africa was the most expensive royal trip in 2019, accounts have revealed.
The couple's travel costs alone were £246,000.
Royal security charges are never detailed in the accounts.
The Duke and Duchess of Sussex spent ten days in South Africa with their then four-month-old son Archie.
Harry then went on to Angola, Malawi, and Botswana.
The costs has been released in the Sovereign Grant accounts – it shows how the taxpayers' money has funded all the Royals over the last twelve months.
It was the Sussexes first trip as senior Royal Family members and was deemed a success.
They met meet Archbishop Desmond Tutu.
And Meghan, 39, also made a speech in which she told women in a township she was there "as a woman of colour".
On the downside, it was on this tour Meghan said she had not been asked if she was "ok".
And Harry said he and his brother William were "on different paths".
After their civic duties Harry and Meghan took an extended break and then decided to walk away from their roles.
The Africa trip was carried out at the behest of the British Government.
The Press Association (PA) reported a source who said:
"The Duke and Duchess of Sussex undertook over 20 engagements, bringing attention to a number of worthwhile causes raising awareness of the work and the legacy of the Halo Trust.
"So, the visit, as an official visit funded by the Government, fulfilled the objectives that were set out for it and so therefore there would be no requirement or obligation on the Duke and Duchess of Sussex to make any payments in relation to that official visit."
The total cost of travel for the Royal Family in the financial year 2019/20 was £5.3 million – up £700,000 on the previous year.
Keeper of the Privy Purse, Sir Michael Stevens, said:
"The majority of the year under review took place before the impact of COVID-19 set in, with the Royal Family undertaking a range of significant visits to communities in the UK and overseas.
"The Queen hosted the President and First Lady of the United States of America on a State Visit and led the country in national moments of remembrance such as the 75th anniversary of D-Day and Armistice Day.
"Although COVID-19 has temporarily changed the format of engagements and events, it has not changed the sense of continuity, reassurance and recognition they provide.
"Her Majesty's programme, supported by Her family, will continue to develop meaningful ways to lead the nation through this time."