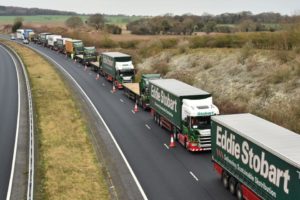 Library picture
More than 7,000 trucks could be queuing in Kent unless hauliers prepare for custom changes, warns the Government.
The "worst case scenario" could see two-day delays for lorry loads going to France from January 1st, 2021.
Michael Gove, the Chancellor of the Duchy of Lancaster, handles the UK's "no-deal" planning for Brexit.
In Cabinet Office documents seen by the Press Association, Mr Gove warns changes are happening – with or without a deal.
The paperwork says that, in a "reasonable worst-case scenario", between 30-50% of trucks crossing the Channel will not be ready for the new regulations.
It adds that "a lack of capacity to hold unready trucks at French ports" could reduce the flow of Channel traffic to 60-80% of normal levels.
It says: "This could lead to maximum queues of 7,000 port bound trucks in Kent and associated maximum delays of up to two days."
Such foreseen delays could be in place for at least three months.
Hauliers have been told "to get to grips with the new systems and requirements".
In his letter, Mr Gove said:
"Irrespective of the outcome of negotiations between the UK and EU, traders will face new customs controls and processes.
"Simply put, if traders, both in the UK and EU, have not completed the right paperwork, their goods will be stopped when entering the EU and disruption will occur.
"It is essential that traders act now and get ready for new formalities."
The Road Haulage Association (RHA), revealed a meeting with Mr Gove had fallen "far short of our expectations".
Richard Burnett, RHA chief executive said:
"We've been consistently warning the Government that there will be delays at ports but they're just not engaging with industry on coming up with solutions.
"Traders need 50,000 more customs intermediaries to handle the mountain of new paperwork after transition but Government support to recruit and train those extra people is woefully inadequate.
"The answers to the questions that we raised in our letter to Mr Gove and subsequent roundtable meeting last Thursday still remain unanswered – and our concern continues to grow."
A UK Government spokesman said:
"As a responsible Government we continue to make extensive preparations for a wide range of scenarios, including the reasonable worst case.
"This is not a forecast or prediction of what will happen but rather a stretching scenario."