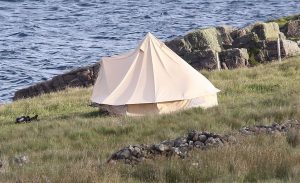 Boris Johnson has cancelled his Scottish Highlands holiday and returned to Downing Street.
The Prime Minister was taking a break with his fiancée Carrie Symonds and newly born son Wilfred.
Many felt it was a well-earned break after an exhausting six months in office – and a close brush with death when he caught coronavirus.
However, the remote location was leaked when photographs of the holiday home and tent were published.
Security advisers decided it was no longer safe to stay.
The family, and dog Dilyn, flew back to London after just three days away.
The Sun newspaper reports a "well-placed source" explaining the decision to leave.
The person said: "They had been camping in the garden of the cottage, but the security threat was too much.
"The tent could be spotted by a sniper from too far away for them to stay after the location was published."
The pictures showed a tent pitched near the white cottage – The Old School – with views across the sea towards the islands of Raasay, Rona and Skye.
Mr Johnson had planned to stay at the property for a week.
But locals tipped off a photographer.
Downing Street did not comment on the PM's holiday plans or security threats faced.
Earlier this year the PM urged people to take a staycation.
He said: "This country is uniquely blessed with fantastic places to holiday, whether coastal or otherwise – and I am certainly going to be doing that.
"Obviously, if people feel the need for a foreign holiday, then that's completely a matter for them, I totally understand it.
"But there are fantastic, fantastic places, peerless, wonderful, superlative places, in the UK to go on holiday."