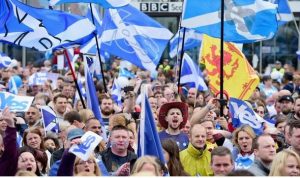 Support for an independent Scotland has reached a record high, claims a new poll.
Panelbase found 55% of Scots want to go it alone from the UK.
The figure is the same percentage who wanted to stay within the Union in the 2014 referendum.
The poll was commissioned by Business for Scotland – a pro-independent group.
Its chief executive Gordon MacIntyre-Kemp said the result was a "huge landmark" – showing the "writing is very definitely on the wall for the union".
Panelbase polled 1,011 people across Scotland between August 12 and 18.
Overall, 51% of those questioned said they supported independence, 42% said they would vote to stay in the UK and 7% of voters were undecided.
When undecided voters were excluded, 55% favoured Scotland leaving the UK, with 45% preferring to stay in the union.
Mr MacIntyre-Kemp said: "The reversal of the 2014 result is a huge landmark – 55% Yes will send shockwaves throughout the political world.
"There is no conclusion to draw from this new set of data other than the writing is very definitely on the wall for the union."
"The referendum that will be demanded following May 2021 Holyrood elections, on these figures, would start with Yes to independence commanding a 10% lead.
"Independence is now significantly the majority decision of the people of Scotland and its momentum looks solid."
Prime Minister Boris Johnson has ruled out a second referendum.