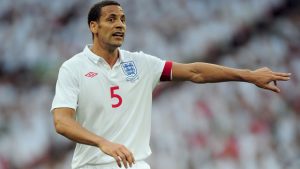 Former England captain Rio Ferdinand has been banned from driving for six months.
The retired centre-back – he played for Manchester United, Leeds, and West Ham – was convicted of speeding.
A court heard he was clocked doing 85 mph in his new Mercedes.
The limit on that stretch of the A27 in Hove, East Sussex, is 70 mph.
He admitted the offence, which carried three penalty points.
Under "totting up", Ferdinand was banned because he already had nine points on his licence.
Twelve points is invariably an automatic ban.
Ferdinand, 41, told Crawley Magistrates' Court a ban would amount to "exceptional hardship".
He mitigated he needed to drive his three children – Lorenz, 13, Tate, 11, and nine-year-old Tia – to school and other activities.
He said his newly pregnant wife Kate, 29, could not take over driving duties.
And, finding a chauffeur during the coronavirus pandemic was not possible.
Ferdinand said: "It's very difficult with three children, with different activities and different times at school."
Magistrate Mr. Geoffrey Allen rejected the claim.
He said: "Unfortunately COVID has affected everybody in the world the same way."
Ferdinand was also fined £670, with £85 costs, and ordered to pay a £67 victim surcharge.