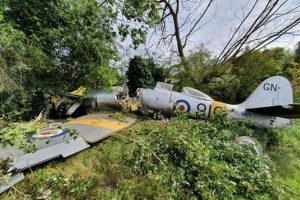 Picture Jack Arnold
Pilot David Unwin admits he's "lucky to be alive" after his plane crashed into a tree at 130 mph.
David was flying a 1951 Hawker Sea Fury – nicknamed "Invincible" – alongside his Eskil Amdal.
After taking off from Duxford airfield in Cambridgeshire, the duo performed loops, rolls, and turns for a photographer.
Suddenly, the engine stalled and the plane was hurtling towards the ground.
David, a pilot for 35 years, said:
"We should be dead – there's no doubt in my mind, knowing what I do about flying and this particular aeroplane."
Eyewitness Colin Williams, 66, said he saw black smoke trailing out of the aircraft.
"I thought it was doing a display but then the smoke got bigger.
"I heard the engine splutter and then silence.
"It sounded like a lawnmower that had run out of fuel.
"I saw the plane dropping in dead silence.
"It was going down at an angle that made me think it was going to hit the ground."
And Jack Arnold, 26, was one of the first on the scene.
He said: "I heard a bang in the air.
"I was just standing in my kitchen and saw the plane swoop down out the sky and come down in the corner of the field.
"It just missed the residential area.
"There was a bit of white smoke from the engine but no flames.
"My girlfriend saw how it went over the houses and that made me realise just how lucky we were."
Pilot David, 59, from Grantham, Lincolnshire, suffered three spinal fractures and a broken rib, as well as a "brilliant" array of cuts and bruises.
He spent two days in hospital.
Both he and Mr Amdal have been discharged.
The Civil Aviation Authority is investigating the cause of the crash.