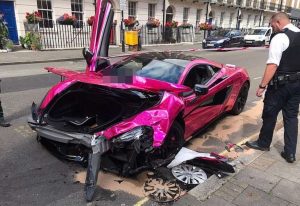 Picture Simon Tuhill London Fire Brigade
A McLaren 570 sports car with a top speed of 203 mph crashed on a road with a 20-mph limit.
The bright pink two-seater was left a wreck after it's reported the driver lost control.
The car's 3.8 twin-turbo V8 engine delivers a blistering 0-60 in less than three seconds.
Simon Tuhill – London Fire Brigade Borough Commander for Camden – said:
"We go to many incidents involving crashed vehicles.
'But not that many where one of those vehicles is a McLaren 570 supercar.
"Crews from Euston attended this RTC on Montagu Mansions, Marylebone last week to make the scene safe after a driver lost control."
Car magazine Auto Trader describes the 570S as "less technologically sophisticated than McLaren's other models, but it's no less enjoyable".
Its expert adds:
"The handling is sensational; the ride is comfortable, and the engine delivers truly devastating pace.
"Chuck in the appealing interior and looks that are more exotic than the price tag suggests, and you have a very tempting sports car package."