Migrants crossing the English Channel is "bad, stupid, dangerous and criminal", warns Boris Johnson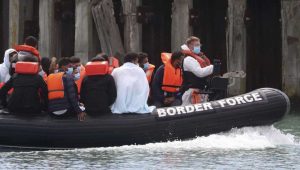 Prime Minister Boris Johnson has called Channel crossings by migrants as a "very bad, and stupid and dangerous and criminal thing to do".
Over the last week more than 700 migrants have crossed from France to the British south east coast.
Britain has sent the Royal Navy to help a beleaguered Border Force cope with the influx.
And tensions between Britain and France on how to handle the growing crisis are reaching straining point.
France has already said sending in the Royal Navy "won't change anything".
Home Secretary Priti Patel has been to Dover and went out with police patrol boat early this morning.
Meanwhile, Defence Secretary Ben Wallace has told the RAF to watch the Channel from the sky.
Mr Johnson said: "There's no doubt that it would be helpful if we could work with our French friends to stop them (migrants) getting over the Channel.
"Be in no doubt what's going on is the activity of cruel and criminal gangs who are risking the lives of these people taking them across the Channel, a pretty dangerous stretch of water in potentially unseaworthy vessels.
"We want to stop that, working with the French, make sure that they understand that this isn't a good idea, this is a very bad and stupid and dangerous and criminal thing to do.
"But then there's a second thing we've got to do and that is to look at the legal framework that we have that means that when people do get here, it is very, very difficult to then send them away again even though blatantly they've come here illegally."
Meanwhile Calais MP Pierre-Henri Dumont, told BBC Radio 4's Today programme:
"This [sending in the Royal Navy] is a political measure to show some kind of resource to fight against smugglers and illegal crossings in the Channel.
"But technically speaking that won't change anything."
He said French authorities were already trying to do "whatever we can" to intercept crossings.
More than 4,000 migrants have reached Britain so far this year.
The English Channel is the world's busiest shipping lane.