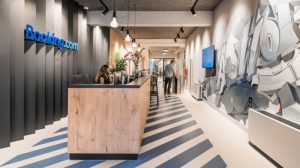 Travel site Booking.com is looking to lay off up to 25% of all its workers.
The online agency has been hit hard by the coronavirus pandemic.
The company employs more than 17,000 people – 5,500 of them at its Amsterdam HQ.
Details of the job losses in which departments and countries will be made clearer in a few weeks, said the company.
Chief Executive Glenn Fogel sent a 15 minutes video to all staff.
He told them:
"In my heart, I hoped this wouldn't happen.
"However, nothing can mitigate the impact this crisis has had and will continue to have for both the travel industry and our business."
A global shutdown of the travel industry has seen bookings on the site drop by 85%.
A Booking.com worker in Manchester said:
"There's been a lot of talk about what might happen given bookings are falling through the floor.
"So, I guess job losses won't come as a surprise to many.
"It's now a waiting game to find out which departments and in which countries the axe will fall."