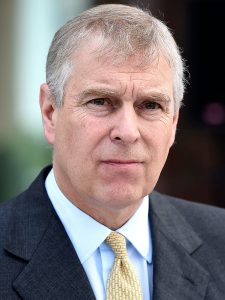 A document detailing Prince Andrew's alleged sexual encounters with a teenage girl has been released.
Titled "The Billionaire Playboy's Club", it was written by Virginia Giuffre.
Ms Giuffre claims she had sex with Andrew on three separate occasions – something the Prince strongly denies.
In the released court papers Ms Giuffre wrote how Andrew whispered "sweet nothings" into her ear, and kissed her neck while on the dance floor of London's Tramp nightclub.
It was during an evening out with convicted sex trafficker Jeffrey Epstein and his ex-girlfriend Ghislaine Maxwell.
Ms Giuffre wrote: "I would just giggle not really knowing how to reply to an ageing man with a bad smile and terrible moves…"
Later, after she claims she and Andrew had a bath together at Maxwell's home, she wrote:
"He was adorning my young body, particularly my feet, caressing my toes and licking my arches."
And, after having alleged sex with him, she was left with "feelings of dismay".
The documents are from a now-settled defamation lawsuit filed by Ms Giuffre.
Also, among the newly released papers are emails between Maxwell and Epstein.
They were written in 2015 when Ms Giuffre's allegations once again grabbed media attention.
Epstein, who later killed himself in prison, told Maxwell:
"You have done nothing wrong and I (would) urge you to start acting like it.
"Hold your head high, not as an (escaping) convict."
The FBI later arrested Maxwell while on the run.
She is currently in custody awaiting trial next year.
She has pleaded not guilty.
Meanwhile, Prince Andrew has slipped into the shadows after a disastrous appearance on the BBC Newsnight programme.
He had hoped to clear his name but only incurred public anger and wrath by showing no empathy with Epstein's victims.
American law officers wish to interview Andrew about his relationship with Epstein and Maxwell.